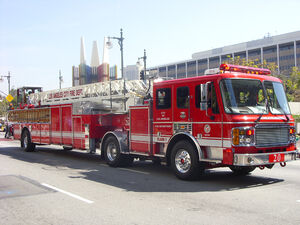 A Truck is known as the rolling toolbox of the fire department. Whereas the Engines main job is to carry hose, a pump, and water, a Trucks primary function is to transport the various ladders, saws, extrication gear, and all of the other tools necessary for firefighting and rescue operations. The mainstay of the Truck is of course it's ladder compliment. The most noticeable one is, of course, the 100ft mid-mounted aerial ladder and platform which is used to elevate firefighters onto roofs, perform rescue operations from multi-story buildings, as well as allow firefighters to mount a heavy flow master stream appliance. Known as Ladder Pipe operations, the master stream appliance may be mounted on the end of the ladder and attached to a 4" line connected to the pumper in the Light Force. This allows for 1000gpm to be aimed directly into the seat of the fire from a safe vantage point above. Other ladders carried inside are 2 - 35' extension ladders, 2 - 24' straight ladders, 2 - 20' straight ladders, 2 - 16' straight ladders, 1 - 20' roof ladder, 1 - 16' roof ladder, 1 - 14' extension ladder, and 1 - 12' extension/attic ladder. In addition to that, you'll find numerous tools such as an air bag system for stabilizing vehicles and debris, blowers for horizontal ventilation, generators, rope rescue/high angle rescue equipment, forcecible entry equipment, various saws and hand tools, salvage covers, Holmatro spreaders and power rescue tools, and the rescue air cushion.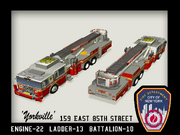 Ad blocker interference detected!
Wikia is a free-to-use site that makes money from advertising. We have a modified experience for viewers using ad blockers

Wikia is not accessible if you've made further modifications. Remove the custom ad blocker rule(s) and the page will load as expected.