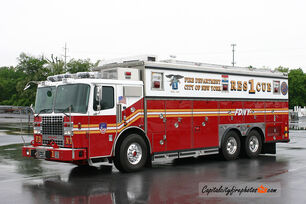 US&R - this rig is commonly called a U-SAR which is short for Urban Search and Rescue. There are US&R rigs stationed strategically around the city . These apparatus are critical assets during an earthquake, a train or aircraft accident, or in any situation where people may be trapped. Common uses are for rescue work in trench collapses and significant traffic accidents. A US&R is essentially a huge toolbox operated by "US&R Certified" firefighters. The US&R mission is in alignment with FEMA's rescue initiatives as well.

Ad blocker interference detected!
Wikia is a free-to-use site that makes money from advertising. We have a modified experience for viewers using ad blockers

Wikia is not accessible if you've made further modifications. Remove the custom ad blocker rule(s) and the page will load as expected.